HR Mastery: Ensuring Employee Satisfaction During Corporate Moves (Guest blog)
by Alexandra Miller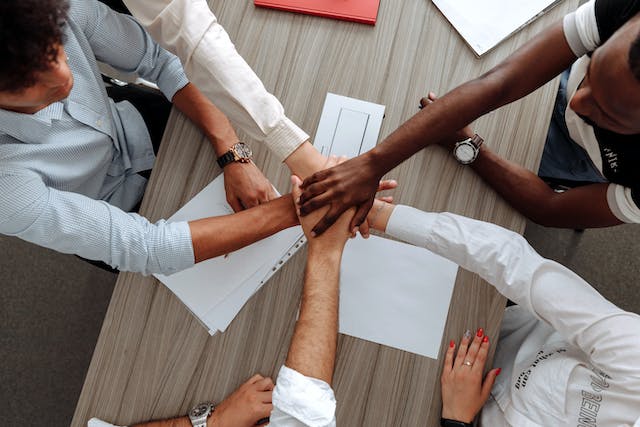 https://www.pexels.com/photo/man-and-woman-holding-each-other-s-hands-as-a-team-5256816/
Corporate moves are a significant step for any company. When done right, they streamline operations and help businesses. However, ensuring employee satisfaction during corporate moves requires HR mastery.
The Importance of Employee Satisfaction and HR's Role In It: Corporate Move Edition
Every business thrives on the well-being and satisfaction of its employees. Corporate moves, however significant they might seem for operational efficiency, can be a source of unrest and apprehension for the workforce. Especially during transitions like relocating, understanding the stakes is paramount.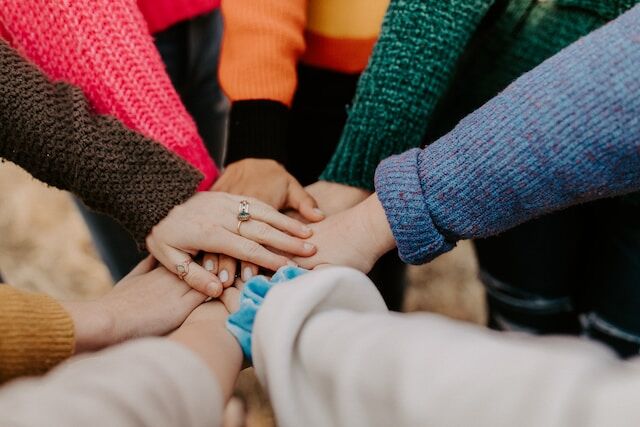 https://unsplash.com/photos/person-in-red-sweater-holding-babys-hand-Zyx1bK9mqmA
The importance of employee satisfaction during these periods is manifold:
• Enhanced productivity. Happy employees tend to be more productive and motivated.
• Reduced turnover. Content employees are less likely to look for opportunities elsewhere.
• Improved morale. A satisfied workforce encourages a positive work environment, fostering camaraderie.
• Direct impact on profitability. Higher satisfaction often leads to better customer service and, in turn, increased profitability.
Recognizing these aspects highlights the crucial role that communication and support play during corporate relocations. As we proceed, we'll delve into the instrumental role of HR in bridging potential gaps and ensuring a smooth transition.
The HR's Proactive Role
The Human Resources department often emerges as the unsung hero in corporate scenarios, especially during transitions. Its strategies and initiatives are essential for ensuring employee satisfaction during corporate moves, making it the backbone of successful transitions.
The Essence of Communication
In any move, rumors and misinformation can spread quickly, leading to unnecessary panic and unrest. Thus, communicating effectively is key. HR must take the lead in providing accurate, timely information. By announcing the move clearly and outlining the underlying reasons, HR can create an atmosphere of trust, addressing potential concerns even before they arise.
Support Beyond the Basics
Effective HR strategies for smooth office relocation go beyond mere logistics. Offering resources, whether in the form of training or financial incentives, shows that the company values its employees' well-being during the transition. At the same time, recognizing the emotional challenges of such moves and providing emotional support can maintain morale.
Fostering Inclusivity Through Participation
When employees feel heard, they feel valued. By integrating feedback surveys or focus groups, HR ensures that the workforce feels involved in the move. Plus, encouraging employees to participate in move-related decisions can create a stronger sense of community and ownership. That solidifies the bond between the company and its most valuable assets - its people.
Effective Logistics Planning
Logistics carry a weight that extends far beyond moving boxes and equipment. Effective logistics planning, when executed thoughtfully, can be the key that holds together the entire relocation process, ensuring an easier transition for all involved.
Harmony Through Coordination
Meticulous coordination with moving partners is essential for any corporate relocation. Every step requires detailed attention, from scheduling to the final move-in. HR departments can minimize disruptions through efficient coordination and helping employees adapt quickly to the new environment. Smooth transitions can, over time, cement the company's reputation, potentially drawing in new talent.
Empowerment Through Training
Relocations can introduce employees to unfamiliar tools or processes, especially if the move is to a technologically advanced setup. Proactive HR departments anticipate these changes and arrange training sessions. By doing so, they equip employees with the necessary skills and reinforce the idea that the company is invested in their continuous growth and adaptation.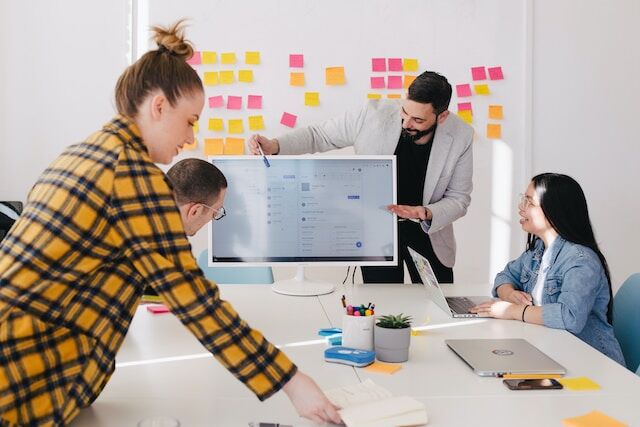 https://unsplash.com/photos/man-standing-behind-flat-screen-computer-monitor-bzqU01v-G54
Putting Employee Well-being Front and Center
During the chaos of a move, it's essential to remember the human element. By offering flexible work options or even temporary housing during the transition, HR departments demonstrate their commitment to employee well-being. This dedication ensures a smoother move and can leave a lasting impression that might even attract new candidates in the future.
Post-Move Strategies
The journey is far from over once the dust settles after a corporate relocation. In fact, the post-move phase is equally vital, demanding a proactive approach from HR to ensure the continued well-being of employees.
The Value of Reflection
After the move, people must pause and reflect. Gathering feedback isn't a mere formality; it offers actionable insights. Regular employee check-ins and evaluations can help HR departments understand areas that went well and those that need improvement. These reflections guide future strategies, ensuring that subsequent transitions become even smoother.
Celebrating Resilience and Adaptability
Relocating can test the adaptability and resilience of the workforce. HR departments should seize this opportunity to recognize and applaud these traits. Whether through events, special recognitions, or simple gestures of appreciation, celebrating the team's efforts can boost morale and foster a stronger company culture.
Continuous Support for Continued Growth
The move might be a significant milestone, but the journey of ensuring employee well-being is ongoing. By maintaining an open-door policy, offering continuous training, and being receptive to feedback, HR departments can help all employees thrive in times of change. This unwavering support serves as a foundation for individual growth and the collective progress of the organization.
Encouraging Community Building
The physical environment of a workspace heavily influences team dynamics and interpersonal relationships. A move can disrupt established bonds, even if just temporarily. To counteract this, HR departments can facilitate community-building exercises and events.


https://www.pexels.com/photo/group-of-men-and-women-doing-glass-toast-6405665/
Such initiatives can rekindle camaraderie and nurture new connections, whether it's team lunches, group workshops, or inter-departmental challenges. By actively promoting these interactions, HR ensures that unity and shared purpose remain strong, even in a new setting.
Conclusion on Ensuring Employee Satisfaction During Corporate Moves Through HR Mastery
Corporate relocations symbolize more than just a change of address; they represent a new chapter in a company's growth and success. This shift can be daunting for employees, but it can open doors to innovation and renewed energy when navigated with tact and understanding.
The role of HR becomes key in these scenarios. By placing emphasis on ensuring employee satisfaction during corporate moves, HR departments have the power to turn potential challenges into opportunities. As companies embark on such ventures, the collective spirit, guided by effective HR practices, lays the foundation for a brighter and more cohesive future.
Meta Description:
Discover key HR strategies for ensuring employee satisfaction during corporate moves, from planning and organizing to post-move care.
Author's Bio:


Alexandra Miller works as a content manager at Spyder Moving Denver. With a passion for employee well-being and a background in HR, she enjoys crafting insightful articles that resonate with readers and offer actionable tips.